News pour cette Collection
2020-21 Immaculate Collection Collegiate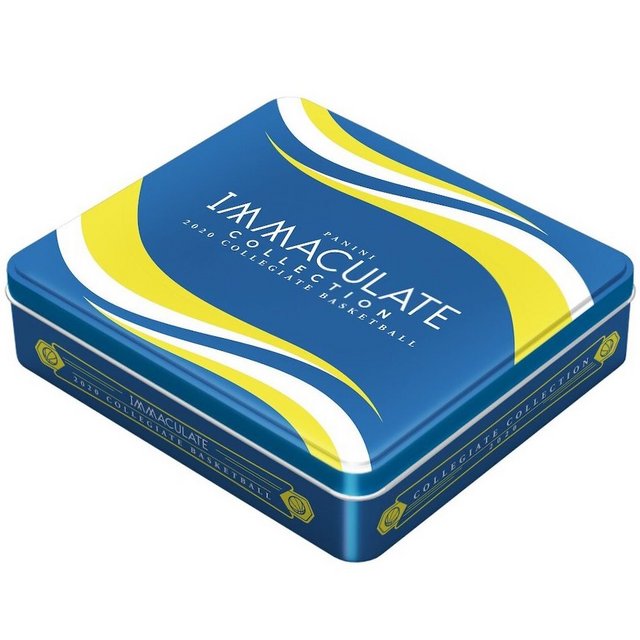 2020-21 Immaculate Collection Collegiate offers
high-end cards for some of the top incoming
NBA rookies and former college stars.
Each box averages five autographs or relics.
Like last year, the release is exclusive to Panini's online store
https://www.paniniamerica.net/2020-pani ... usive.html
020 Panini Imacualte Collegiate hobby box
contains 6 cards per pack and 1 pack per box.
Look for 5 autographs or memorabilia
and 1 base/parallel, per box, on average!
*Please allow 2-4 business days
to process orders*
*All Sales Final*
Product limited to 5 box per transaction*
*Available Exclusively at PaniniAmerica.net*
This year's Panini Immaculate Collegiate
will be featured in a Dutch Auction Format!
When It Starts:
November 20th, 2020 @ 10AM
How It Works:
Set Up an account at
http://www.paniniamerica.net
(login is required).
Opening Price Starts at $1500.
Price Drops every 5 minutes until product sells out.
Buy at any time.
Customers will pay the price that is active
when product is added to cart.
On November 20, the "Dutch Auction" format starts at $1,500 per box
and incrementally drops until it reaches $500 per box or sells out.
By combining premium patches, legendary autographs,
and a deep 2020 NBA Draft Class,this year's Immaculate Collection Collegiate
Basketball has the potential to be one of our best!
Our limited 20-card base set is limited to just 65 copies!
Look for Gold #/10, Green #'d/5 and Platinum #/1
Find a combination of on-card autographs of the biggest
names in the this year's draft in Immaculate Dual, Trio and Quad
Autograph sets!
Look for 5 autographs or memorabila cards
and one base/parallel per box!
2020-21 Immaculate Collection Collegiate Details :
https://www.beckett.com/news/2020-panin ... all-cards/
2020-21 Immaculate Collection Collegiate takes the premium
brand online as an exclusive for the company's website.
And while the distribution may be smaller, the focus on incoming
rookies and high-end cards remains the same.
Five of the six cards in each hobby box
are either autographs or memorabilia cards.
2020-21 Immaculate Collection Collegiate Checklist Overview :
Like anything with the Immaculate name attached
to it, Rookie Patch Autographs are a focal point.
Although all have premium swatches,
some of the parallels bring in specialized pieces like logos.
Additional signature relics include
things like jumbo swatches.
On the strictly signature side, the checklist
does include some that are on-card.
Multi-autograph cards are available with two,
three and four signers. These deliver more hard signatures.
It's not just rookies that are in the product.
Immaculate Coolelction Collegiate Ink features current
and retired players pictured in their college uniforms.
Jumbo returns for another patch of memorabilia cards.
These get their name for their massive swatches
that take up almost the entire front of the card.
2020-21 Immaculate Collection Collegiate
does have a traditional base set.
It's small, consisting of just 20 cards.
Each has just 65 copies.
Parallels include Gold (/10), Green (/5)
and Platinum (1/1).
These all combine to land one per hobby box.
This marks the second year in a row that Immaculate Collegiate
has been an online-exclusive.
It made the switch with the 2019 release.
2020-21 Immaculate Collection Collegiate Base
2020-21 Immaculate Collection Collegiate works
in a 20-card base set that is numbered to 65 copies.
This is a decrease from 2019-20, which had 80 copies per base card.
There are Gold (#/10), Green (#/5)
and Platinum (#/1) parallels, as well.
The six-card box includes one base card or parallel.
2020-21 Immaculate Collection Collegiate Autographs / Relics
The rest of the release is comprised of hits.
Headlining the 2020-21 Immaculate Collection Collegiate
checklist is the Rookie Patch Autographs line.
Collectors can also find Premium Patches Rookie Autograph cards
for some of the biggest names heading into the NBA Draft.
Other possible options include Immaculate Collection Ink
cards for the past standouts.
Those looking for notable combos can check out the on-card
Immaculate Dual Autographs, Immaculate Trio Autographs
and Immaculate Quad Autographs.
2020-21 Immaculate Collection Collegiate
also offers premium relics via the Jumbo insert.
https://www.cardboardconnection.com/202 ... ball-cards
Release Date :
November 20, 2020
2020-21 Immaculate Collection Collegiate Product Configuration :
- 6 cards per pack, 1 pack per box
2020-21 Immaculate Collection Collegiate Hobby Box Break
- 5 Autographs or Relics
- 1 Base/Parallel*
2020-21 Immaculate Collection Collegiate Patchs Autographs
R.J. HAMPTON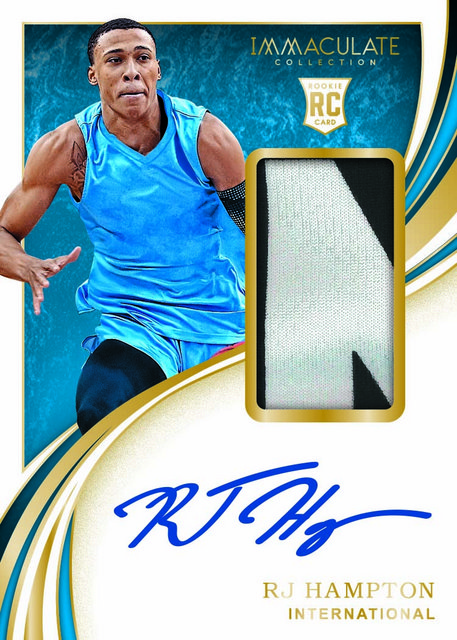 2020-21 Immaculate Collection Collegiate Patchs Autographs
ANTHONY EDWARDS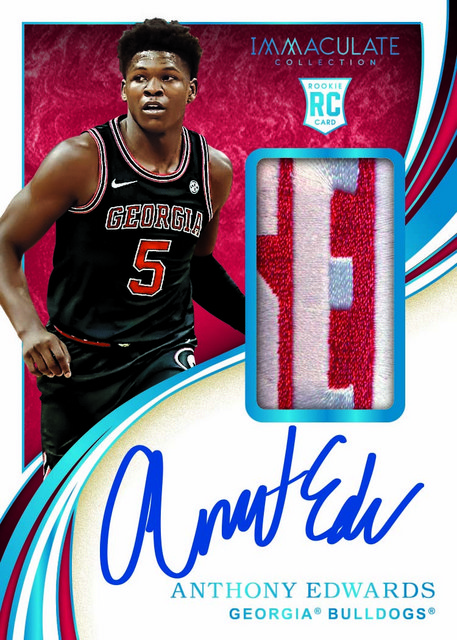 2020-21 Immaculate Collection Collegiate Patchs Autographs
NICO MANNION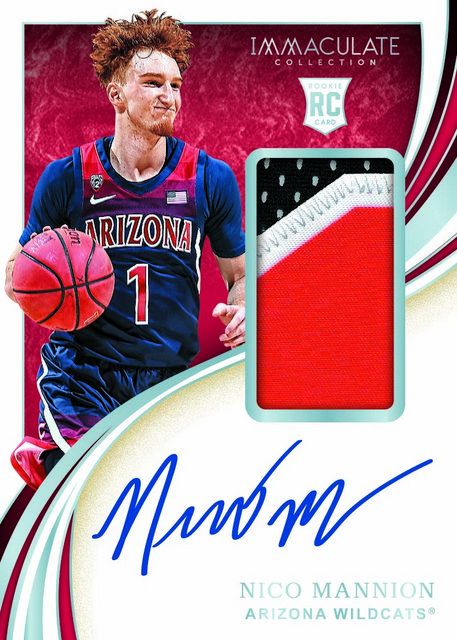 2020-21 Immaculate Collection Collegiate Autographs
JALEN SMITH
2020-21 Immaculate Collection Collegiate Premium Patchs Autographs
TYRESE MAXEY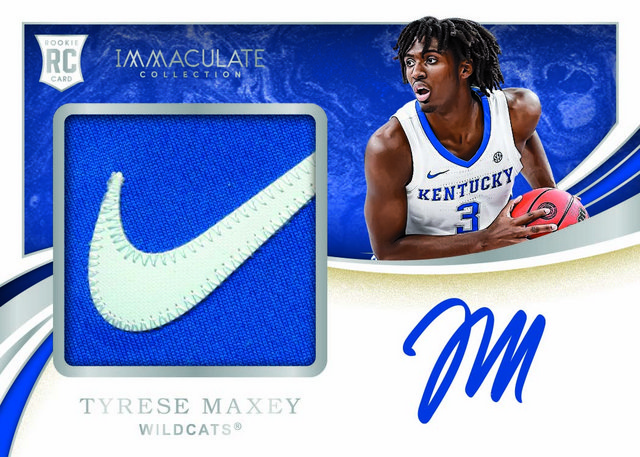 2020-21 Immaculate Collection Collegiate Jumbo Patchs
PATRICK WILLIAMS
2020-21 Immaculate Collection Collegiate Ink Signatures
RAY ALLEN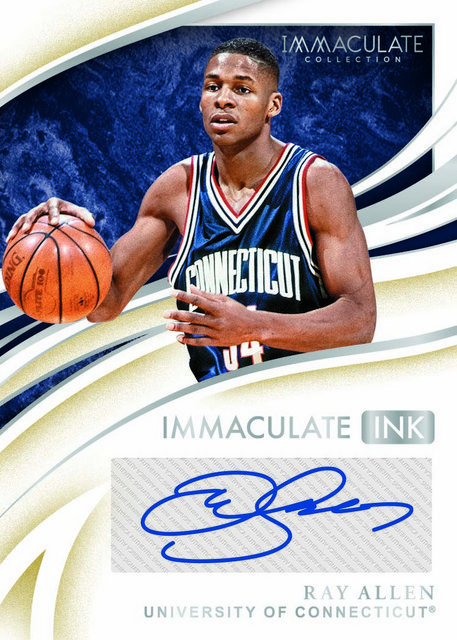 2020-21 Immaculate Collection Collegiate Duals Autographs
TYRESE MAXEY / TYRESE HALIBURTON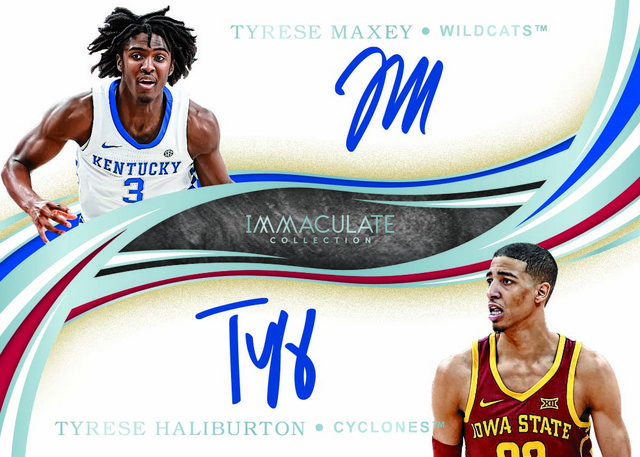 2020-21 Immaculate Collection Collegiate Trios Autographs
ANTHONY EDWARD / OBI TOPPIN / JAMES WISEMAN