News pour cette Collection
2020 Leaf Best Of Sports :

The third year of Leaf's multi-sport repack
brand is here via 2020 Leaf Best of Sports.
As always, each box offers one buyback card.
There is also a chance at a limited redemption card
for memorabilia that takes the place of the buyback.
2020 Leaf Best of Sports Set Details
https://gogts.net/2020-leaf-best-of-spo ... ing-cards/
Although Leaf has sport-specific versions of the "Leaf Best Of" line,
2020 Leaf Best of Sports spreads the love around
to previous cards across several different sports.
Teasing notable autographs and rookie cards for baseball,
basketball, football and hockey stars, the product "celebrates
everything that is great about sports collectibles."
This includes autographed inserts, graded cards
and vintage releases from sets originally issued
by Panini, Topps and Upper Deck, among other possible choices.
In addition to one buyback, each 2020 Leaf Best of Sports
box contains one original Valiant Stars insert showcasing top players.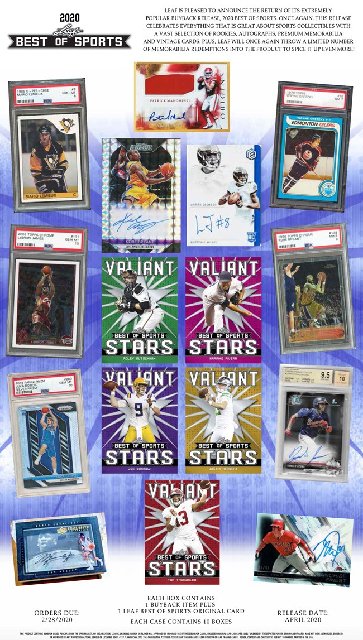 What's buzz-worthy :
https://www.blowoutcards.com/blog/first ... of-sports/
Leaf's buyback brand takes on all of the sports world
in one place once again with a release that "celebrates
everything that is great about sports collectables."
The Basics :
https://cartophilic-info-exch.blogspot. ... st-of.html
This one includes "a vast selection of rookies, autographs,
premium memorabilia and vintage cards"
as well as a "limited number" of memorabilia redemptions.
This one will include a mix of slabbed and unslabbed cards
with a Best of Sports card in every box with players
such as :
Mariano Rivera, Adley Rutschman, Joe Burrow,
Justin Herbert and Tua Tagovailoa among those teased.
Those cards will also likely have parallels but details on that were not teased at this time.
https://www.cardboardconnection.com/202 ... orts-cards
Estimated Release Date :
May 1, 2020
Product Configuration :
- 2 cards per pack, 1 pack per box, 10 boxes per case
2020 Leaf Best of Sports Hobby Box Break :
- 1 Buyback Card or Redemption
- 1 Valiant Stars Card
2020 Leaf Best of Sports Product Highlights :
- Look for Premium Buyback Cards including:
- Autographed Cards
- Memorabilia Cards
- Vintage Cards
- Rookie Cards
- Signed Memorabilia Redemptions!
- And other surprises!!
- Look for the Biggest names in sports!!!