News pour cette Collection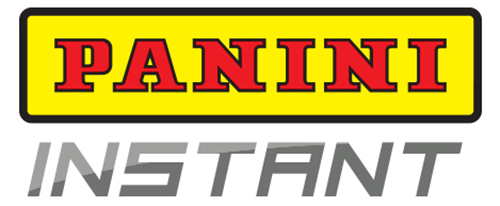 2019-20 Panini Instant Draft Night Delivers First Official Zion Williamson NBA Cards :
https://www.beckett.com/news/2019-panin ... son-cards/
The 2019-20 basketball card season is going
to see a lot of Zion Williamson cards.
But there can only be one first card.
And it didn't take long to get there.
Shortly after the New Orleans Pelicans confirmed
the obvious and Williamson shook hands
with NBA commissioner Adam Silver
Panini had a basketball card commemorating
the moment ready for collectors
to order through its website.
https://www.paniniamerica.net/cards/pan ... 19-20.html
And Williamson wasn't alone.
2019 Panini Instant Draft Night covered the entire night
including cards of nine of the top 10 picks.
Other highlights include Ja Morant (#2 overall),
R.J. Barrett (#3 overall) and De'Andre Hunter (#4 overall).
The checklist went beyond the first round
with a card of Bol Bol, the 44th pick, who is expected
to end up in Denver following a likely trade.
Zion Williamson and the rest of the 2019 Panini Instant Draft Night
cards are available on the Panini website through Monday, July 1.
The base versions have open-ended production
runs that will match what's ordered.
There are also Green (/10) and Black (/1) parallels.
Single copies of base cards cost $9.99 on Panini's site,
however there are discounts for bulk orders.
For example, 25 copies of the same card runs $99.99,
which works out to $4 per card.
Cards can also be found on eBay through the secondary market.
2019-20 Panini Instant Draft Night
ZION WILLIAMSON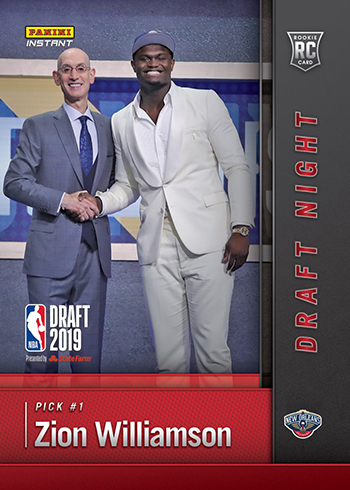 2019-20 Panini Instant Draft Night
JA MORANT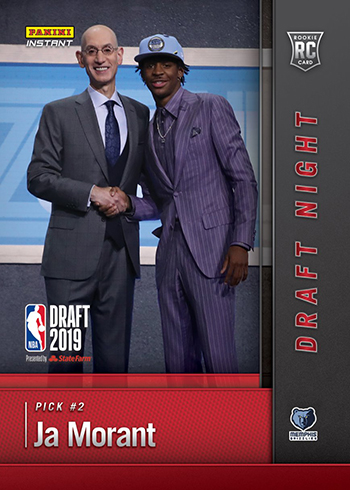 2019-20 Panini Instant Draft Night
R.J. BARRETT
2019-20 Panini Instant Draft Night
De'ANDRE HUNTER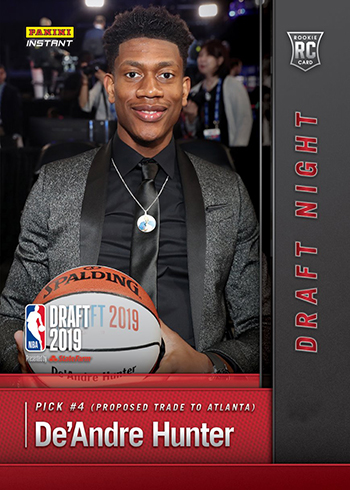 2019-20 Panini Instant Draft Night
JARRETT CULVER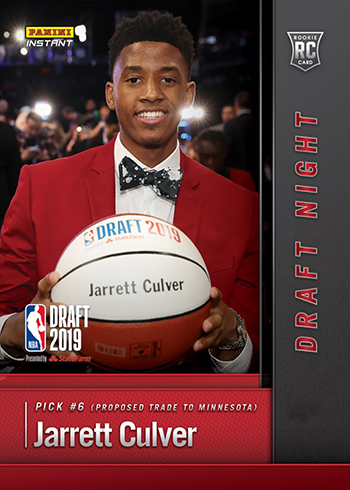 2019-20 Panini Instant Draft Night
COBY WHITE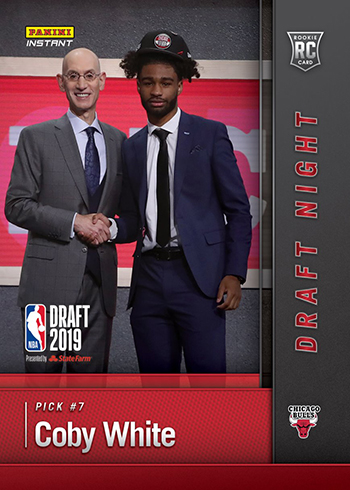 2019-20 Panini Instant Draft Night
JAXSON HAYES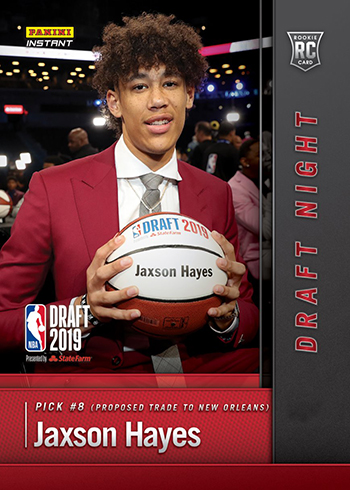 2019-20 Panini Instant Draft Night
RUI HACHIMURA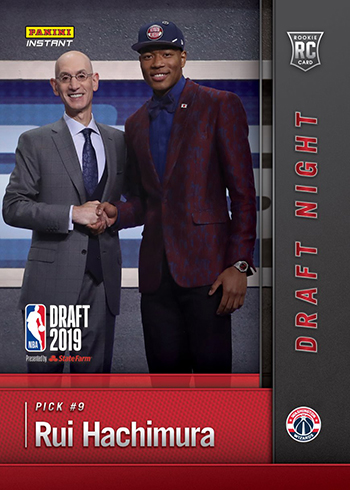 2019-20 Panini Instant Draft Night
CAM REDDISH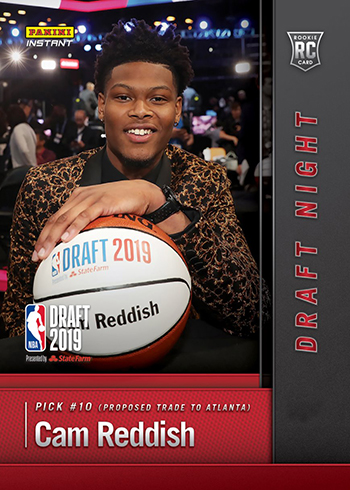 2019-20 Panini Instant Draft Night
TYLER HERRO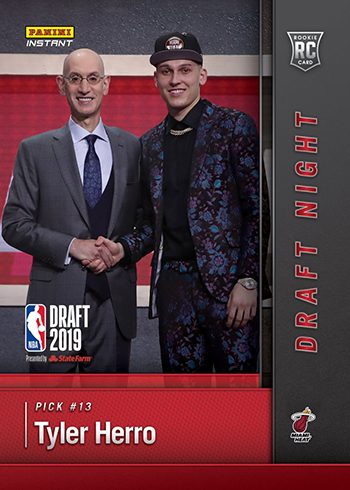 2019-20 Panini Instant Draft Night
ROMEO LANGFORD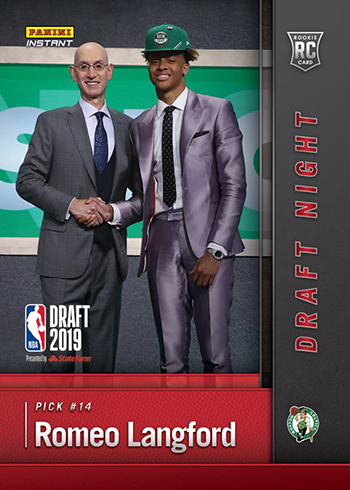 2019-20 Panini Instant Draft Night
NICKEIL ALEXANDER-WALKER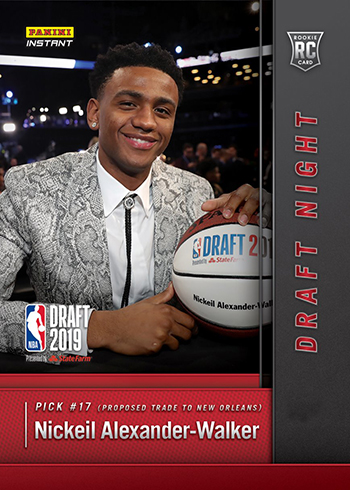 2019-20 Panini Instant Draft Night
BRANDON CLARKE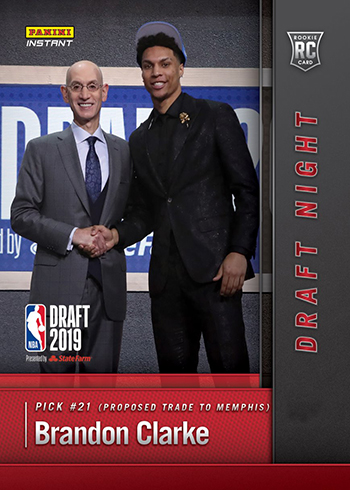 2019-20 Panini Instant Draft Night
KELDON JOHNSON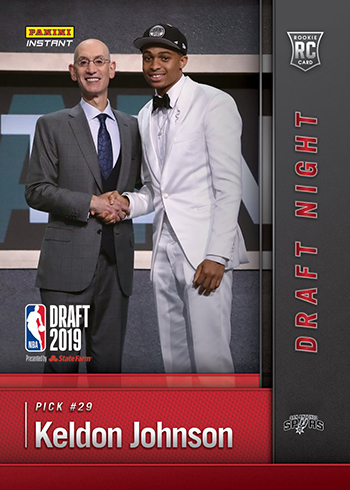 2019-20 Panini Instant Draft Night
BOL BOL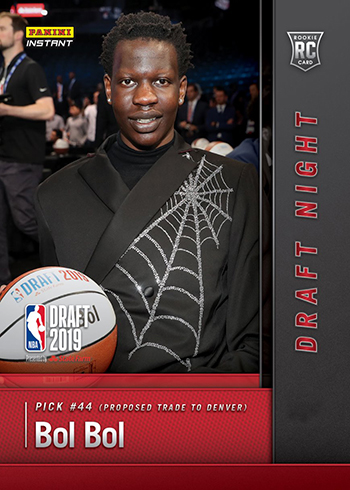 2019-20 Panini Instant Draft Night Black Platinum #1/1
BOL BOL