News pour cette Collection
2019 Leaf Best Of Sports :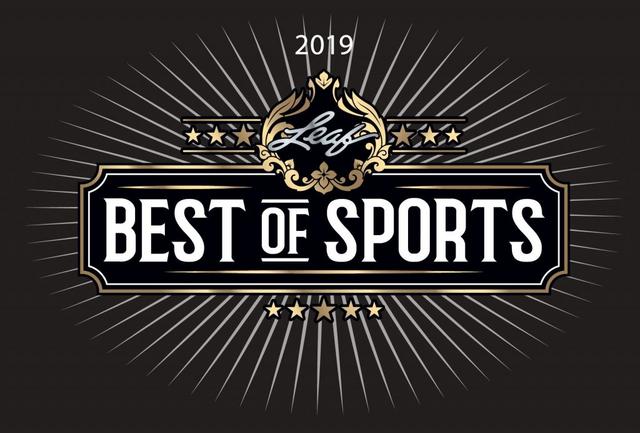 2019 Leaf Best Of Sports Checklist and Details :
https://www.beckett.com/news/2019-leaf-best-of-sports/
Leaf is please to announce the return of last years smash hit,
repacked product, 2019 Leaf Best Of Sports.
Once again, this release celebrates everything
fantastic about sports cards.
This release features autographed cards, memorabilia cards,
vintage cards, rookie cards and even a few surprises
including signed memorabilia redemptions!
When you see "Leaf" and "Best of" together,
it's going to be a product highlighted by premium level
repurchased cards.
Usually, it's specific to a single sport.
For 2019 Leaf Best Of Sports, everything is in play.
The concept is still the same.
Headlining each 2019 Leaf Best Of Sports box
is a card from the past.
These include Rookie Cards, autographs,
vintage cards and more.
Really, anything deemed high-end from
the world of sports cards is possible.
Redemptions for autographed memorabilia
are also randomly inserted.
2019 Leaf Best Of Sports boxes have a second card as well.
This time around they're exclusive to the product.
Leaf Original Best Of Sport inserts cover take the product's
eclectic nature to heart, offering cards of athletes
from several areas.
Done as Leaf Metal cards, parallels come in a variety of colors.
2019 Leaf Best Of Sports is the second
installment of the multi-sport repack release.
Each box contains one buyback and one original Leaf insert.
Although the Leaf's "Best of" format has been around for years,
it is generally based around one specific sport.
The multi-sport version first debuted in 2018.
2019 Leaf Best Of Sports Set Details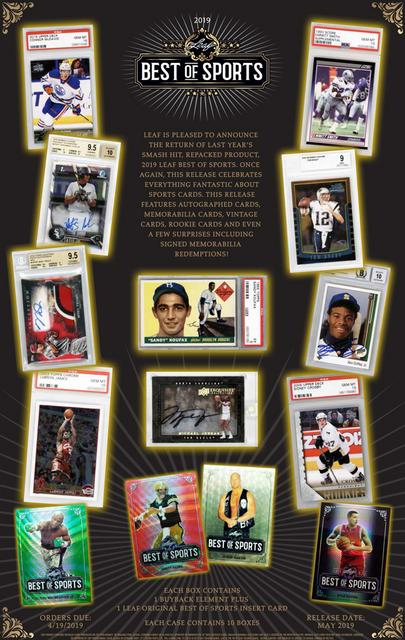 2019 Leaf Best Of Sports touches on many choices
from the athletic world.
A full breakdown was not provided, but the initial sales info
included buybacks from brands like Bowman,
Score, Topps and Upper Deck.
Featured sports include :
https://gogts.net/2019-leaf-best-of-spo ... ing-cards/
baseball, basketball, football and hockey.
Within the 2019 Leaf Best Of Sports checklist,
collectors can find key rookie cards and vintage cards,
plus autographs and relics.
Some of these cards are graded, as well.
There are also redemptions good for signed memorabilia.
In addition to one buyback, each box contains one Best Of Sports base card.
https://www.cardboardconnection.com/201 ... ding-cards
Release Date:
May 10, 2019
Product Configuration :
2 cards per pack, 1 pack per box, 10 boxes per case
2019 Leaf Best Of Sports Hobby Box Break :
- 1 Buyback Card
- 1 Leaf Insert
2019 Leaf Best Of Sports Product Highlights :
- Look for Premium Buyback Cards including :
- Autographed Cards
- Memorabilia Cards
- Vintage Cards
- Rookie Cards
- Signed Memorabilia Redemptions!
- And other surprises!!
- Look for the BIGGEST names in sports!!!
2019 Leaf Best Of Sports Card Variations :
https://leaftradingcards.com/2019-leaf-best-of-sports/
Rookie Impact
Silver Prismatic – no numbering
Blue Prismatic – #'d to 10 and lower
Purple Prismatic – #'d to 7 and lower
Pink Prismatic – #'d to 5 and lower
Black Prismatic – #'d to 3 and lower
Green Prismatic – #'d to 2 and lower
Orange Prismatic – #'d 1 of 1
Rookie Impact – Wave
Silver Prismatic – no numbering
Blue Prismatic – #'d to 7 and lower
Purple Prismatic – #'d to 5 and lower
Pink Prismatic – #'d to 3 and lower
Black Prismatic – #'d to 2 and lower
Green Prismatic – #'d 1 of 1
Orange Prismatic – #'d 1 of 1
Base – Common
Silver Prismatic – no numbering
Blue Prismatic – #'d to 35 and lower
Purple Prismatic – #'d to 25 and lower
Pink Prismatic – #'d to 20 and lower
Black Prismatic – #'d to 15 and lower
Green Prismatic – #'d to 10 and lower
Orange Prismatic – #'d to 7 and lower
Red Prismatic – #'d to 5 and lower
Gold Prismatic – #'d 1 of 1
Gold Super Prismatic – #'d 1 of 1
Base – Common – Wave
Silver Prismatic – no numbering
Blue Prismatic – #'d to 20 and lower
Purple Prismatic – #'d to 15 and lower
Pink Prismatic – #'d to 10 and lower
Black Prismatic – #'d to 7 and lower
Green Prismatic – #'d to 5 and lower
Orange Prismatic – #'d to 3 and lower
Red Prismatic – #'d to 2 and lower
Gold Prismatic – #'d 1 of 1
Gold Super Prismatic – #'d 1 of 1