News pour cette Collection
2018-19 Panini Threads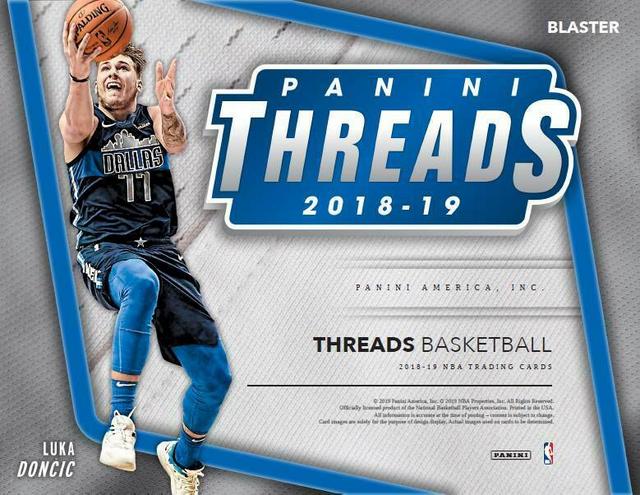 2018-19 Panini Threads Checklist, Team Set Lists and Details :
https://www.beckett.com/news/2018-19-pa ... ds-retail/
2018-19 Panini Threads comes in a couple of different forms.
It'll be most visible on the retail end, where it has an expanded
checklist compared to the previous year.
There's also a premium version of the product that's exclusive
to Panini's website that comes with numbered cards
and a pair of autographs in each box.
The base set starts with 100 cards.
All veterans, these use action photography.
Parallels in retail packs are Dazzle versions,
which cast foil dots in the background.
There's also a Premium version (/199) in the online-only boxes
plus a couple of further Premium-only parallels.
Things get a little more complicated for the next 120 cards.
These are divided into three blocks,
each with the same mix of 30 rookies and ten superstar vets.
Association and Rookie Association are only in retail Value Packs.
There's also a Premium version for Association cards.
These use the players' home jerseys in the background.
Next up is the Icon subset, which are essentially
the same except they have away jersey backgrounds.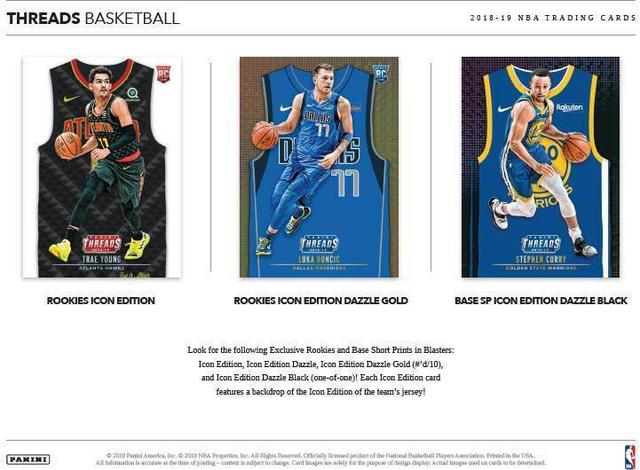 Finally, hanger boxes are home to Statement cards,
which have alternate jersey backdrops.
As far as themes for autographs and memorabilia cards go,
things are kept pretty simple in 2018-19 Panini Threads.
Both have a couple of themes and a few parallels,
but not in large numbers.
Rookie Signatures and Signage make up the autographs
while Authentic Threads and Rookie Threads are the lone relics.
Regular inserts are much more plentiful as far as themes go.
These come in a dozen different forms,
most focusing on a particular kind of playing style.
Some of these inserts are exclusive to certain pack types.
Split across three retail formats
2018-19 Panini Threads is back for NBA fans.
Collectors will likely notice that the '18-19 release ramps up
considerably in comparison to the very basic 2017-18 set.
This is further extended with exclusive options in each retail box type.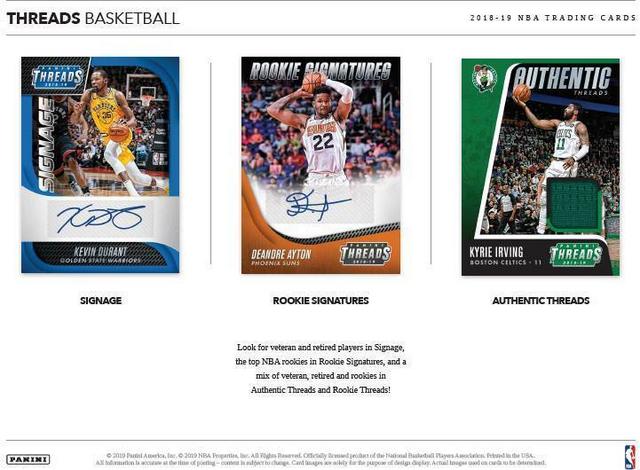 2018-19 Panini Threads Premium Checklist, Team Set Lists and Details :
https://www.beckett.com/news/2018-19-pa ... all-cards/
2018-19 Panini Threads Premium offers a more limited version
to the main set that's a retail-exclusive.
This Premium spin is also available exclusively at Panini's website.
Sold in single-pack boxes, each comes with 15 cards.
Two are autographs and five are inserts.
Rookies have prominent spots on several parts of the checklist.
The first autograph in each box comes from a first-year player
and is numbered to 105 copies or less.
The other autograph is numbered as well, this time to 200 or under.
The base set has 140 cards.
This is smaller than the retail version, which has 220 total cards.
The first 100 Premium cards feature veterans.
The Rookies Association and Association subsets round things out.
Base versions are numbered to 199.
Each also has Premium Blue (/75), Premium Gold (/10)
and Premium Black (1/1) parallels.
All cards, from the signatures through to the base,
take a premium approach with their card stock.
This also comes through with the numbering.
No base card or parallel has more than 199 copies.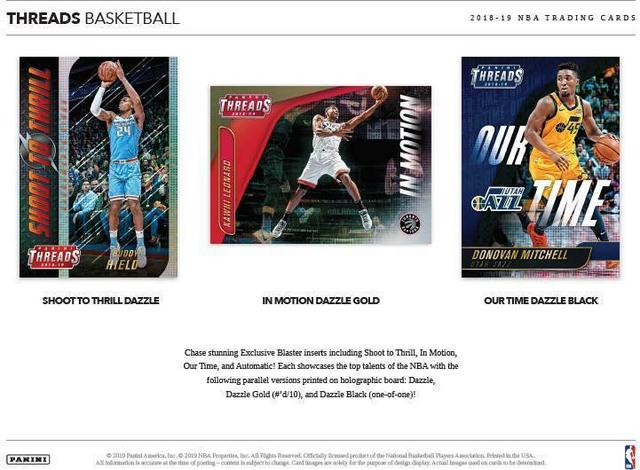 2018-19 Panini Threads Autographs / Relics
The 2018-19 Panini Threads checklist is also home
to autographs cards, such as Signage, Signage Gold (#/25),
Rookie Signatures, and Rookie Signatures Gold (#/25).
2018-19 Panini Threads Premium boxes are $100 each
in the company's store. There's a limit of six boxes per order.
Standard base cards also come in Dazzle Purple (#/99 - Hanger),
Dazzle Pink (#/75 - Blaster) and Dazzle Green (#/5 - Hanger),
in addition to the options mentioned above
Among the insert choices, Automatic, In Motion, Our Time,
and Shoot to Thrill cards come only in the Blaster boxes.
Other inserts include :
Bringing Down the House, Century Collection, Next Wave,
and Threedom, which are found in the Hanger and Fat Packs.
Many of the same Dazzle parallels apply for the inserts, as well.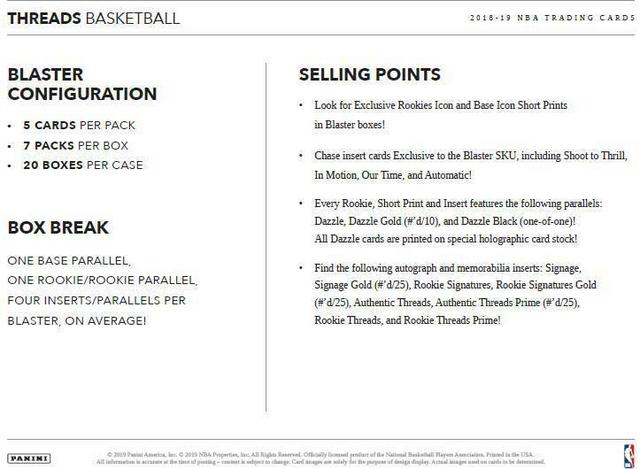 2018-19 Panini Threads Base / Inserts
Known for jersey-designed cards, 2018-19 Panini Threads
continues that tradition for the rookies and base SP set.
Icon jersey options for the base and rookie cards
are exclusive to Blaster boxes
and the Statement jersey cards come in Hanger and Fat Pack formats.
The holographic Dazzle parallels can be found across the box types,
but Blasters have the Gold (#/10) and Black (1/1)
Icon cards, Fat Packs have the Blue (#/25)
and Orange (#/5) Statement cards,
and Hangers have the Gold (#/10) and Black (1/1) Statement cards.
Memorabilia options include :
Authentic Threads, Authentic Threads Prime (#/25)
Rookie Threads, and Rookie Threads Prime.
https://www.cardboardconnection.com/201 ... ball-cards
Release Date :
April 24, 2019
Retail Configurations :
Blaster Box :
5 cards per pack, 7 packs per box, 20 boxes per case
Hanger Box :
20 cards per box, 36 boxes per case
Fat Pack :
10 cards per pack, 12 packs per box 12 boxes per case
2018-19 Panini Threads Blaster Box Break Average :
- 1 Base Parallel and 1 Rookie/Rookie Parallel
- 4 Inserts/Parallels
2018-19 Panini Threads Hanger Box Break Average
- 1 Base Parallel and 1 Rookie/Rookie Parallel or SP/SP Parallel
- 2 Inserts/Parallels
2018-19 Panini Threads Fat Pack Box Break Average :
- 6 Base Parallels and 6 Rookies/Rookie Parallels
- 12 Base SP/Parallels
2018-19 Panini Threads Rookie Icon Edition
TRAE YOUNG
2018-19 Panini Threads Rookie Icon Edition Dazzle Gold
LUKA DONČIĆ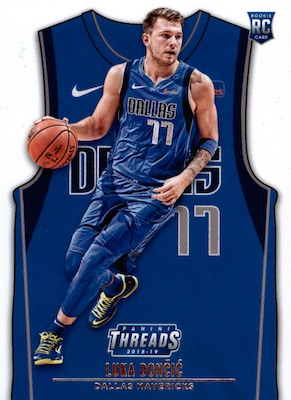 2018-19 Panini Threads Base SP Edition Dazzle Black
STEPHEN CURRY
2018-19 Panini Threads Signage
KEVIN DURANT
2018-19 Panini Threads Rookie Signatures
DeANDRE AYTON
2018-19 Panini Threads Authentic Threads Jerseys
KYRIE IRVING
2018-19 Panini Threads Shoot To Thrill
BUDDY HIELD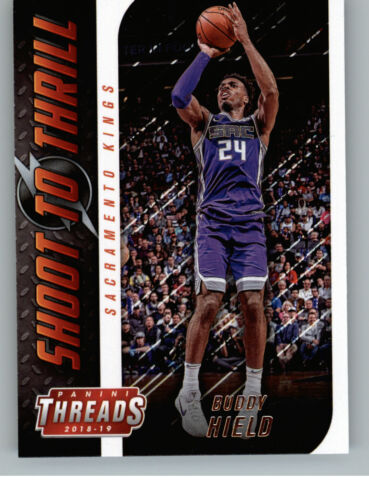 2018-19 Panini Threads In Motion
KAWHI LEONARD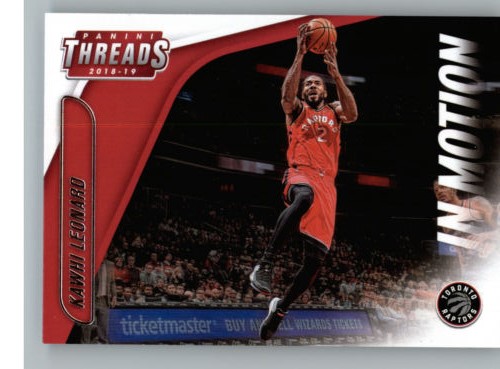 2018-19 Panini Threads Our Time Dazzle Black
DONOVAN MITCHELL