News pour cette Collection
2018 Panini Father's Day Promotion :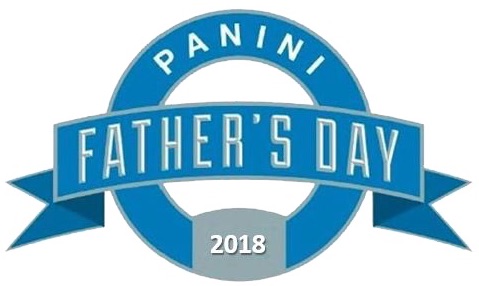 2018 Panini Father's Day Promotion Returns to Hobby Shops :
https://www.beckett.com/news/2018-panini-fathers-day/
The 2018 Panini Father's Day promo set is going back to a single checklist.
After dabbling in similar but separate football and multi-sport releases,
everything is back together again.
Developed as a promotion for hobby shops, 2018 Panini Father's Day
brings together the company's various licenses including football,
basketball, baseball, soccer, NASCAR and college.
As one might expect from such varied subject matter,
the checklist brings with it a fair bit of variety.
Over 70 cards make up the main 2018 Panini Father's Day set.
Given the spread of sports, it's focused on big stars.
Among the cards are rookies, which come numbered to 399.
Parallels come in a handful of levels, using background patterns for visual pop.
These include :
Future Frames (/50), Escher Squares (/25), Crystal Shards (/10),
Checkerboard (/5) and Hyperplaid (1/1).
The Crystal Shards pattern has been referred
to as Cracked Ice in other releases.
2018 Panini Father's Day has some thematic insert sets as well. In past years
Panini Collection has focused on dramatic photography.
This year cards take a more more approach.
They still stand out, only this time graphic enhancements
and added color are the focal point.
Other inserts include 20 Football Prospects (/399)
and ten USA Baseball cards featuring recent and past national team alum.
Autographs (including Shohei Ohtani) and memorabilia cards
are also part of 2018 Panini Father's Day.
How to Get 2018 Panini Father's Day Packs
The main way to participate in the 2018 Panini Father's Day promotion
is to visit a participating card shop.
They're given an allotment of packs based on special orders for specific products.
While it's up to individual shops to decide how packs are distributed in their shops,
it usually corresponds with getting a certain number of special packs
for buying boxes of a specific product.
Paying tribute to the dads and other fatherly figures, 2018 Panini Father's Day
is a promo set that offers collectors an incentive to visit their local hobby shop
during the weekend set aside for fathers.
While the actual Father's Day falls on a Sunday each year, the Panini promotional set
normally kicks off on Friday. In this case, that would be June 15.
2018 Panini Father's Day Promotion Set Details
Changing it up from the more recent editions, the 2018 Panini Father's Day checklist
no longer has a standalone set for football.
Instead, there is just one multi-sport format that includes baseball, basketball,
football, soccer and NASCAR racing stars. Just like past sets, standout MLB, NBA
and NFL rookie players are treated to serial numbered cards.
In addition, there are limited autographs and memorabilia hits to chase.
https://gogts.net/2018-panini-fathers-d ... promotion/
Although many collectors are familiar with the annual set, those new to the hobby scene
might be wondering how to obtain these free packs. Basically, 2018 Panini Father's Day packs
are a purchase incentive for sealed Panini products of the past year or so.
Once you visit your local card shop, buying certain boxes yields
a set number of the packs.
2018 Panini Father's Day Promotion :
The list below displays the applicable sets and the expected number of free packs earned
from a hobby box purchase. The bolded links go directly to detailed set profiles.
https://www.cardboardconnection.com/201 ... ding-cards
Release Date :
16/06/2017
Product Configuration :
2 cards per pack (Multi-Sport or Soccer format)
2018 Panini Father's Day Packs Promotion Highlights :
2018 Panini Father's Day Pack Products
2017 Panini Vertex Football - 4 packs
2017-18 Panini Prestige Basketball - 3 packs
2018 Donruss Racing - 4 packs
2018 Panini Classics Football - 2 packs
2018 Panini Elite Draft Picks Football - 3 packs
2018 Panini USA Stars & Stripes Baseball - 4 packs
2018 Panini Victory Lane Racing - 4 packs
Some fundamental changes to this year's program is the move
to a single, multi-sport pack, encompassing
ALL of Panini's trading card licenses. Highlights of this year's program include :
- 1st Memorabilia Cards – Find cards of stars from the 2018 NFL Draft Class!
- Key Rookies Cards –
- ALL Sequentially Numbered – NFL Draft Picks, MLB Prospects, NBA Rising Stars
and more!
- LOADED with Autographs & Unique Memorabilia Cards!
- Panini's first cards highlighting some of the biggest names in Racing and Soccer!