News pour cette Collection
2018-19 Panini Stickers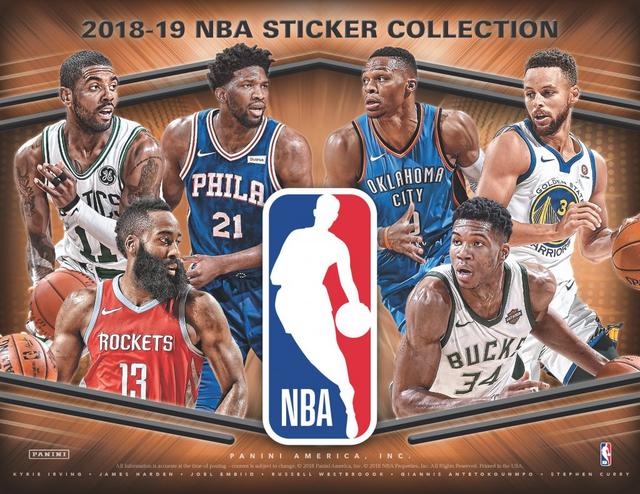 https://gogts.net/2018-19-panini-nba-st ... ollection/
Although lacking any of the "hits" that have come to define modern collecting,
2018-19 Panini Stickers Collection evokes a much simpler time when the thrill
of the hunt was only about finishing the set.
Featuring all 30 NBA teams, the 2018-19 Panini Stickers checklist
offers nearly 500 cards overall, with 100 being foil versions.
The lineup includes top rookies from the 2018 NBA Draft.
Fans can even track and store their stickers using the 72-page album
that contains two pages for every team.
There are also special subsets for 2017-18 award winners,
the 2018 NBA All-Star Game, the 2018 playoffs and NBA Finals.
While the 2017-18 set contained seven stickers per pack,
2018-19 Panini Stickers goes with five stickers per pack.
https://www.cardboardconnection.com/201 ... ball-cards
Estimated Release Date :
03/10/2018
Product Configuration :
5 stickers per pack, 50 packs per box,
30 boxes per case
2018-19 Panini Stickers Box Break :
- 250 Total Stickers
2018-19 Panini Stickers provides collectors with a nearly (500) Stickers Set
including approximately (100) special FOIL stickers
and a (72) page Collector Album is also available.
18PAKST – 2018-19 Panini NBA Stickers – 50 Pack Box
Packaging :
- 30 Boxes per Case
- 50 Packets per Box
- 5 Stickers per Packet SRP: $1.00
18PAKST&A – 2018-19 Panini NBA Sticker & Album Combo Display
Packaging :
(4) Displays per case/(20) Albums & (100) 5ct Sticker Packets per display
72 Page Album SRP: $2.00
7ct Packet SRP: $1.00
18PAKSTA – 2018-19 Panini NBA Album Refills
Packaging :
- 6 packages per case/
- 12 Albums per package
- 72 Page Album SRP: $2.00
2018-19 Panini Sticker Product Highlights :
- A 72-page album with nearly 500 total stickers, including approximately 100 special foil stickers
- Each NBA team is showcased with a two-page spread
- Look for special pages dedicated to NBA events including : 2017-18 NBA Award Winners
- 2018 NBA All-Star Game in Los Angeles
- 2018 NBA Playoffs & 2018 NBA Finals
- 2018 NBA Draft