News pour cette Collection
2017-18 Prestige :
https://blowoutbuzz.wordpress.com/2017/ ... l-details/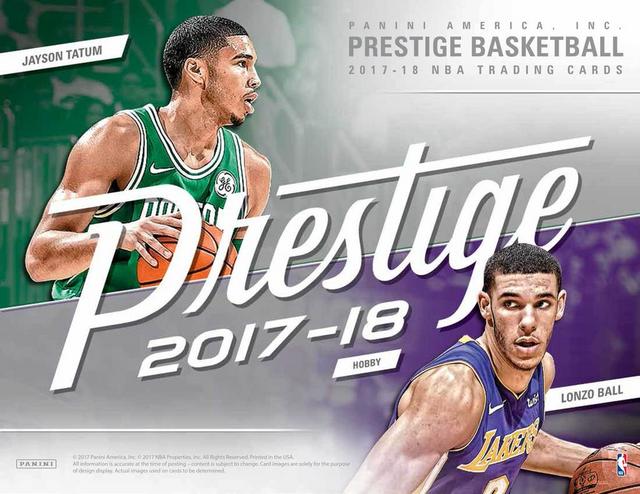 Box basics :
One autograph per 12-pack jumbo box (12 boxes per case)
While 2017-18 Panini Prestige continues an established
hobby reputation, there are still a few things
to keep NBA collectors on their toes.
Similar to the 2016-17 set, there are also several elements that look
to be exclusive to certain retail formats.
Perhaps most interesting, Cracked Ice technology, apparently referred
to as Crystal in this release, is exclusive to Hobby boxes.
Hobby boxes also average a pair of autographs.
What's buzz-worthy :
We've got early word on some of the retail inclusions to come
for this newest version of Prestige, including the basics on pack formats.
24 Packs Per Box, 6 Cards Per Pack
The Basics :
We'll have more hobby details once this one is formally unveiled,
but here's what we know for now.
Displaying a fairly simple design, the 200-card base set includes 150 veterans grouped
by team in the 2017-18 Panini Prestige checklist.
Coming at least one per pack, the final 50 cards are all for rookie players.
Parallels include Horizon, Mist
and Rain, plus hobby-only Crystal (#/199), Crystal Gold (#/10), Crystal Blue (1/1).
A variety of inserts combine with the parallels to average one per pack.
Among the choices, there's All-Time Greats for the NBA legends, Hardcourt Heroes for the team leaders,
and Stars of the NBA for the biggest current names.
In addition, Highlight Reel offers impressive photography, Rookie Class centers on the first-year standouts,
and Stat Stars celebrates those that really pile on the points, rebounds, assists and more.
These options also have the same parallels as the base set, except the primary Crystal version
is not numbered.
There are also Micro-Etch Rookies inserts.
These have Hobby-only Red versions, which average nine per box,
and Pink parallels, numbered to 10 copies.
On the more rare side of 2017-18 Panini Prestige Basketball, the Playmakers insert is a case hit
and the micro-etch Prestigious Picks cards average three per case.
Autographs will be found just once per jumbo box but are not guaranteed in every blaster box.
The third pack format at retail will be hanger boxes.
2017-18 Prestige Checklist and Team Set Lists :
https://www.beckett.com/news/2017-18-pa ... asketball/
2017-18 Prestige Base Set
A total of 200 cards make up the Prestige checklist. The first 150 are veterans while rookies make up the final quarter.
As with many other sets in the Prestige line, cards use a lot of sharp action shots.
This includes the Rookie Cards, which don't have a lot of these types of photos on cards.
Parallels come in several levels including the debut of Crystal, or Cracked Ice, in Prestige.
Available in hobby packs, basic Crystal parallels have 199 copies each.
Crystal Gold are numbered to 10 while Crystal Blue are one-of-ones.
Retail has some exclusive parallels of their own. Horizon cards are only in blaster boxes.
Retail hanger boxes have Mist parallels.
Rain parallels are fat pack exclusives. This carries through to many of the regular inserts
in 2017-18 Panini Prestige.
Autographs :
Autographs combine to land two per 2017-18 Panini Prestige Basketball hobby box.
They're also included in retail packs.
Bonus Shots Signatures have the largest checklist of all the autograph inserts.
These use the same basic layout as base cards on the front.
Signers are a mix of veterans and rookies.
Almost 50 players have Prestigious Signatures cards.
These are a mix of current players and retired stars.
The 20-card Old School Signatures is strictly retired players.
Inserts :
Besides the signed sets, 2017-18 Panini Prestige has nine regular insert sets.
Most of these also have several levels of parallels. Prestigious Picks
and Rookie Class both have 25 cards and center on first-year players.
Mirco Etch Rookies do as well, only with a much larger checklist of 50 cards.
Other insert themes include Hardcourt Heroes (20 cards), All-Time Greats (20 cards), Playmakers (25 cards),
Highlight Reel (ten cards), Stat Stars (ten cards) and Stars of the NBA (15 cards).
Each version will have as its own exclusive Micro-Etch rookie color as well as certain parallels.
Eight-pack blaster boxes ($19.99 suggested retail price) will have two Micro-Etch RCs
and eight inserts or parallels, while there will be pink Micro-Etch cards here limited to only 10 copies.
Also in the mix will be Horizon parallels with holographic stock and there will be Bonus Shots Signatures
and Old School Signatures.
Inserts will include Highlight Reel, Stat Stars, Stars of the NBA, Hardcourt Heroes and All-time Greats.
Jumbo packs ($4.99) will be the home of bright-green parallels and the boxes will include
one autograph, nine RCs and 72 inserts.
These will also be the home of Rain parallels.
Hanger boxes will be $9.99 and include orange rookies two per box with 12 other inserts.
Also only found here will be Mist parallels.
We'll add more details and images here once they become available.
Each Box contains 2 Autographs!
2 Hobby Exclusive Autographs (Bonus Shots Signatures Crystal, Crystal Gold #'d/10, Crystal Blue #'d/1,
Old School Signatures Crystal, Crystal Gold #'d/10, Crystal Blue #'d/1)
Autographs include :
Kobe Bryant, Kevin Durant, Kyrie Irving, Magic Johnson, Tracy Mc Grady,
Gary Payton, Lonzo Ball, Markelle Fultz, Kyle Kuzma, De'Aaron Fox, Jayson Tatum, Zhou Qi and more!
As far as the two autographs per hobby box, collectors can look forward to the base Bonus Shots Signatures,
Prestigious Signatures or Old School Signatures, each with Hobby-only Crystal parallels.
Look for Exclusive Hobby-Only Micro Etch Rookies Red, and Micro Etch Rookies Pink (#'d/10)
Fall approximately 7 per box!
Hobby Exclusive super short-printed inserts Playmakers and Prestigious Picks—showcasing the top NBA veterans,
and rookies from NBA Draft 2017!
Other Hobby Exclusives include Base/Rookies Crystal, Base/Rookies Crystal Gold #'d/10, Base/Rookies Crystal Blue #'d/1,
and Crystal, Crystal Gold #'d/10 and Crystal Blue #'d/1 of the following—Rookie Class, Highlight Reel, Stat Stars,
Stars of the NBA, Hardcourt Heroes, All-Time Greats!
https://www.cardboardconnection.com/201 ... -nba-cards
Estimated Release Date :
21/02/2018
Product Configuration :
6 cards per pack, 24 packs per box, 16 boxes per case
2017-18 Prestige Retail Product Highlights :
Blaster Exclusives :
- Horizon Parallels for the Base, Rookies, and Inserts
- Bonus Shots Signatures Gold #'d/10
- Old School Signatures Gold #'d/10.
- Also look for exclusive Micro Etch Rookies and Micro Etch Rookies Gold #'d/10.
Fat Pack Exclusives :
- Rain Parallels for the Base, Rookies, and Inserts
- Also Look for Micro Etch Veterans Bright Green and Micro Etch Rookies Bright Green.
Hanger Box Exclusives :
- 2 Micro-Etch Rookies Orange
- 12 Inserts Per Box
- Look for Mist Parallels for the base set and inserts printed on special holographic stock
Great Content Throughout!!
- Bonus Shots Signatures features 80 players consisting of veterans, rookies, and retired!
- Old School Signatures features 20 of the most memorable players from the past,
including Tracy McGrady, Gary Payton,and Magic Johnsonn!
- Find inserts highlighting everything we've come to love about basketball including:
- Rookie Class – Look for 25 of the best players selected in the 2017 NBA Draft
- Highlight Reel – Just 10 of the most significant and memorable moments from the last few seasons captured
with stunning photography
- Stat Stars – Showcases 10 of the top statistical performers
- Stars of the NBA –15 of the best and brightest of today's NBA
- Hardcourt Heroes – Highlights 20 of the guys who pick up the slack and lead their teams to the win column
- All-Time Greats – 20 of the most recognizable ambassadors of basketball
2017-18 Prestige Higlight Reel
JAYSON TATUM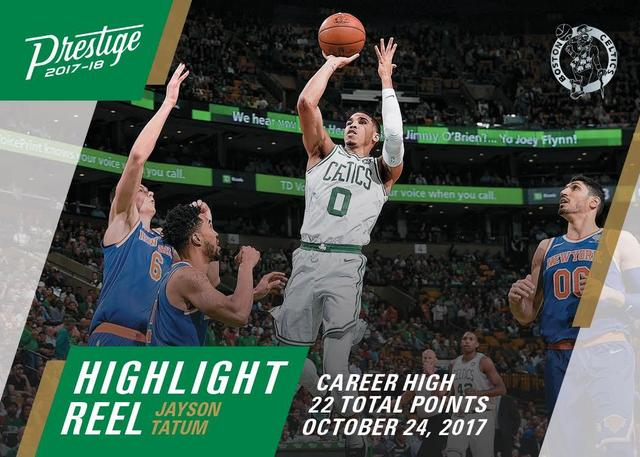 2017-18 Prestige Rookie Gold
LAURI MARKKANEN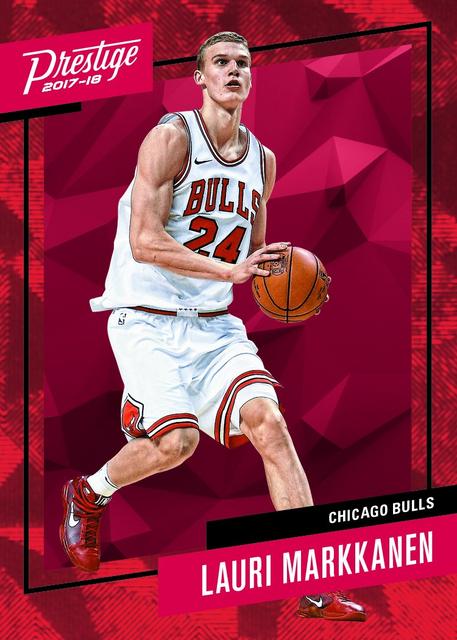 2017-18 Prestige Old School Signatures
TRACY McGRADY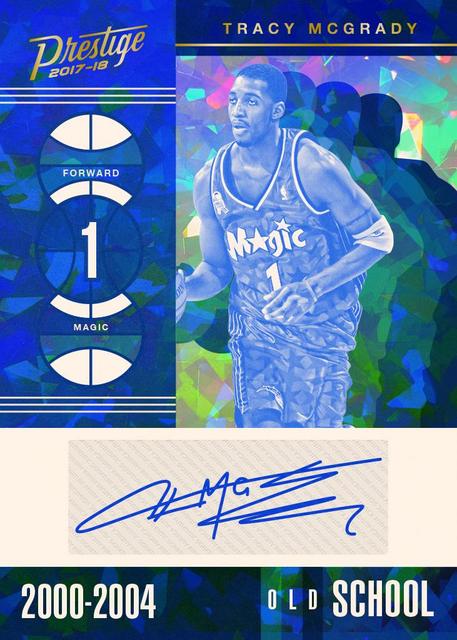 2017-18 Prestige PLaymakers Signatures
STEPHEN CURRY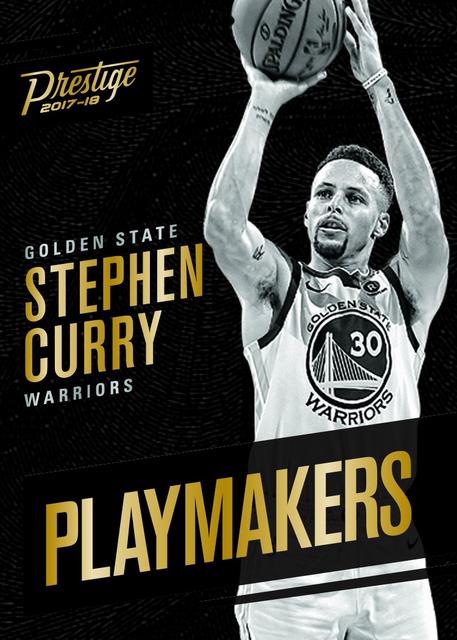 2017-18 Prestige Bonus Shots Signatures
KYRIE IRVING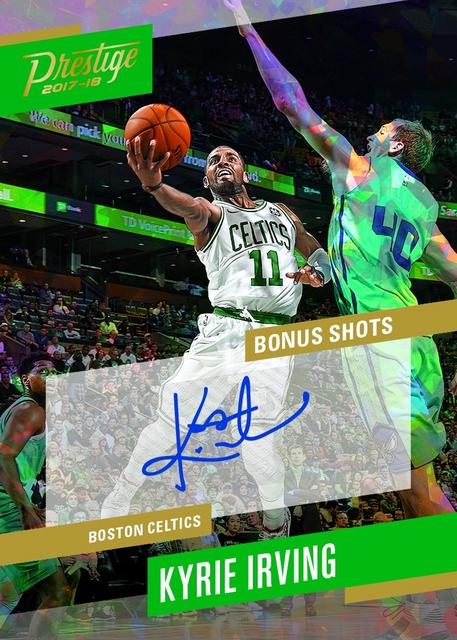 2017-18 Prestige Bonus Shots Signatures
DENNIS SMITH JR.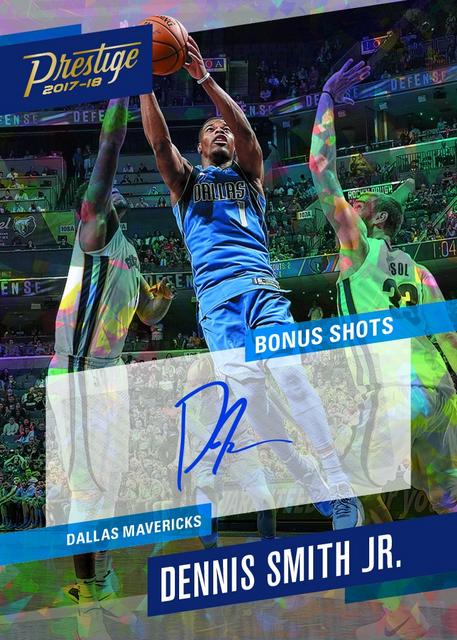 2017-18 Prestige Prestigious Picks
De'AARON FOX