[FICHE] 2017-18 HOOPS & HOOPS PREMIUM
Publié : 17 juin 2017, 10:14
News pour cette Collection
2017-18 Hoops :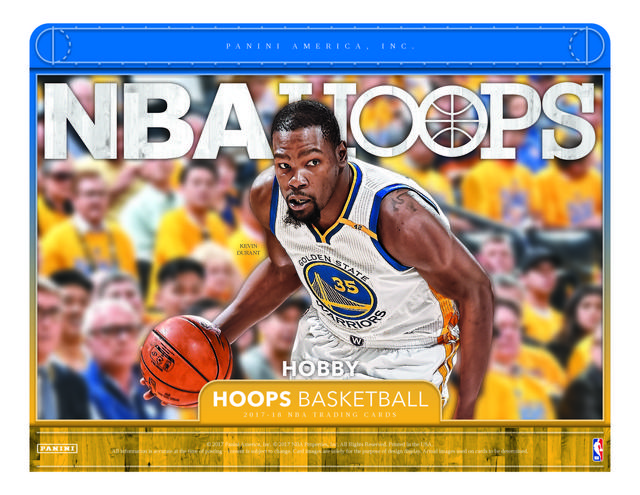 https://blowoutbuzz.wordpress.com/2017/ ... l-details/
What :
2017-18 Hoops
Arrives :
Mid-October
Box basics :
One memorabilia card per eight-pack blaster box (20 boxes per case)
What's buzz-worthy :
The NBA season tips off on cardboard with this release
and we have some early details on what will be found at retail for this as well as Donruss.
Keep reading for more info and a full gallery of images released so far
The Basics :
The first cards of NBA rookies will be found here with three formats
at retail 24-pack boxes, blaster boxes and fat packs.
Standard boxes ($2.49 per eight-card pack suggested retail price) will come in 20-box cases.
Meanwhile fat packs (12 per box) will be $4.99 and include 30 cards.
Overall, there will be Great SIGnificance autographs of legends, rookies and veterans as well as
a 10-card set focusing on the career of Kobe Bryant.
Also in play will be Shaquille O'Neal 2K Sports cards that will be short-printed while more standard inserts will be Faces of the Future,
Class of 2017, Swat Team, Zero Gravity as well as Lights, Camera, Action.
Parallels will include Blue Checkerboard (/75) and Red Checkerboard (/15)
and Gold Great SIGnificance autos (/10).
Blasters will include Rise N Shine Memorabilia, which also will have Prime parallels (/25 max)
and Rookie Remembrance Prime (/25 max).
Fat packs will have Teal Explosion cards and Orange Explosion cards (/75).