News pour cette Collection
2017 Panini Father's Day :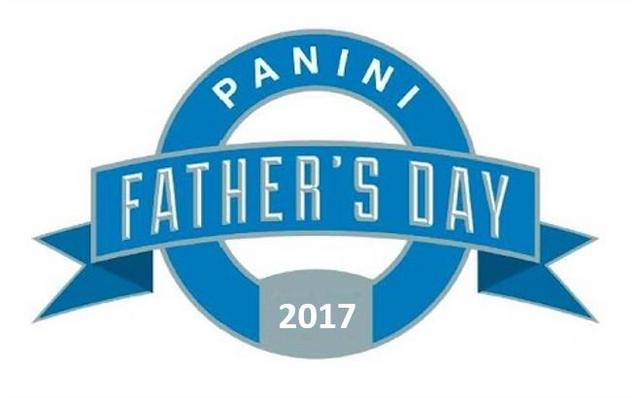 Gallery: Panini America Unveils the Visuals for 2017 Father's Day Promotion Set :
https://blog.paniniamerica.net/gallery- ... otion-set/
If the country's finest sellers of bad ties, "World's Greatest Dad" coffee mugs and designer boxers have experienced
a significant slump in the last five years (especially in the country's hottest collecting markets), well, we apologize.
Indeed, since bursting onto the scene in the summer of 2012, Panini America's annual Father's Day hobby shop
promotion has fundamentally altered the way kids and their moms shop for Dad on his special day.
With the bold introduction five years ago of a wrapper-redemption program intended
to replicate the wild success of the company's Black Friday promotion,
Panini America officials transformed Father's Day — traditionally a sleepy Sunday afternoon
in most of America's hobby shops — into a bona fide collecting holiday.
Along the way, the program has strengthened the unique family bond that collecting creates between a father and his children.
In 2017, the Panini America Father's Day phenomenon returns.
Boasting a holiday-exclusive card set featuring a plethora of unique memorabilia
and autograph inclusions, this year's offering looks to be one of the most content-rich yet.
The 2017 Father's Day set should arrive in participating hobby shops today — if they haven't arrived already.
To help properly prepare you for this year's special set, we provide a comprehensive gallery of must-see sights below.
Enjoy the gallery — which includes the base set, Rookie Card subsets, Panini Collection and more
and stay tuned for continued coverage of the Panini America 2017 Father's Day promotion.
Although the promotional product in honor of dad has become an annual tradition, the 2017 Panini Father's Day checklist tweaks the format
with two different pack options.
This includes NFL packs with only football players,
and multi-sport packs that feature most of the other sports under the Panini banner.
Packs are awarded at participating hobby card shops based on certain Panini box purchases.
Collectors can obtain the incentive cards during Father's Day weekend, starting Friday, June 16, 2017.
2017 Panini Father's Day Football Packs
Leading off, the 2017 Panini Father's Day NFL packs naturally focus on top football players
with a base set highlighted by serial numbered rookies from the 2017 draft class.
There are also limited Autographs and Memorabilia cards as an added chase element.
The football packs are earned by purchases of 2016 and 2017 Panini Football products.
Ranging from one to five packs per box, refer to your LCS for specific details on the total packs awarded for each box you buy.
2017 Panini Father's Day Multi-Sport Packs :
Covering the rest of the Panini sports, including baseball, basketball, NASCAR and soccer, the Multi-Sport set matches the football version
with its own base set, numbered rookies, Autographs and Memorabilia cards.
These packs are earned from a wider variety of box purchases,
including various 2016-17 Basketball, 2017 Baseball, 2017 Racing and 2017 Soccer products.
The 2017 Panini Father's Day Multi-Sport packs are also distributed based on the product purchased
and some tie into other Panini promotional packs.
http://www.cardboardconnection.com/2017 ... ding-cards
Estimated Release Date :
16/06/2017
Product Configuration :
2 cards per pack (Multi-Sport or Football format)
http://gogts.net/2017-panini-fathers-da ... y-details/
Configuration :
1 pack/2 cards
2017 Panini Father's Day Packs Highlights :
- 2017 Panini Father's Day Packs – NFL
- Highlighted by serial numbered 2017 Rookies, Autographs and Memorabilia Cards!
2017 Panini Father's Day Packs – Multi-Sport :
- Highlighted by serial numbered Rookies, Autographs
and Memorabilia Cards of Baseball, Basketball, Soccer, NASCAR and other subjects.
Previews Galerie 2017 Panini Father's Day :
https://blog.paniniamerica.net/gallery- ... sel-186869