News pour cette Collection
2017-18 Panini Stickers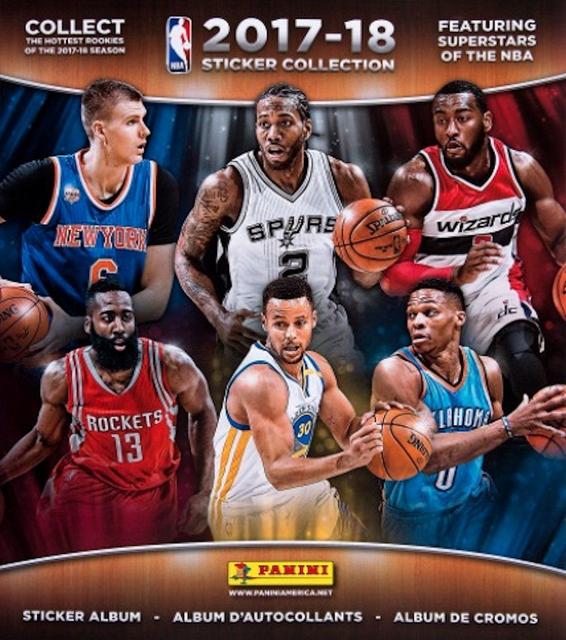 Head to the hoop with 2017-18 Panini NBA Sticker Collection :
http://www.beckett.com/news/head-to-the ... ollection/
Basketball fans are enjoying the excitement of the playoffs at the moment, but Panini America
is already looking ahead to next season as early details have surfaced regarding the 2017-18 Panini NBA Sticker Collection.
With an anticipated release for around the time the next season begins, this is a perfect product
to introduce youngsters to the world of collecting and also to learn about the league, its teams, and its players
with almost 450 stickers that they can put into a large 72-page album.
The 2017-18 Panini NBA Sticker Collection provides collectors a thorough look
at the upcoming season for a budget-friendly price.
The affordable sticker set appeals to those just getting started in The Hobby
or long-time hobbyists and offers 7 stickers per pack.
Inside the pages of the 2017-18 Panini NBA Sticker Collection album, look for two pages
for each team in addition to league events and player accomplishments.
Among the topics covered are this season's Award Winners, the 2016 NBA Christmas Day Games,
2017 NBA All-Star Game, 2017 NBA Playoffs, and the upcoming 2017 NBA Draft.
It will take a lot of effort for a collector to put the whole set together, but the joy of a completed sticker album results
in a feeling of accomplishment.
Packs of 2017-18 Panini NBA Sticker Collection contain seven stickers and some of them inside will be foil (over 100 to collect).
The suggested retail price for them is affordable at $1.00 and the album costs slightly more
at $2.00. Boxes of stickers contain 50 packs, but there is the option of purchasing Sticker & Album Combo Displays that have 100 packs along with 20 albums.
As with previous Panini sticker releases, the base set has 449 stickers
with roughly 100 unique foil stickers showcasing each NBA team.
Despite not having true inserts, 2017-18 Panini NBA Sticker Collection
offers plenty of variety with several subsets.
The lineup boasts top talent with veterans and 2017 NBA Draft selections alike.
http://gogts.net/2017-18-panini-nba-sticker-collection/
Fans needing storage for the large set will find ample space with the 2017-18 Panini NBA Sticker Collection custom albums available,
although, collectors should note they are sold separately usually alongside the packs.
The 72-page binder provides two pages per team along with additional pages for memorable moments
and events from the 2016-17 NBA season including Christmas Day Games, Award Winners, and All-Star Game in New Orleans.
The full-color sticker album even offers dedicated pages for a complete recap of the 2017 NBA Playoffs and Finals.
2017-18 Panini NBA Sticker Collection provides collectors with a nearly (450) Sticker Set
including over (100) special Foil stickers and a (72) page Collector Album is also available.
http://www.cardboardconnection.com/2017 ... collection
Estimated Release Date :
04/10/2017
Product Configuration :
7 stickers per pack, 50 packs per box, 24 boxes per case (24 albums)
2017-18 Panini NBA Sticker Collection Box Break :
- 350 Total Stickers
Configurations :
2017-18 Panini NBA Stickers – 50 Pack Box
Packaging :
(24) Boxes per Case/(50) Packets per Box/(7) Stickers per Packet SRP: $1.00
2017-18 Panini NBA Sticker & Album Combo Display
Packaging: (4) Displays per case/(20) Albums & (100) 7ct Sticker Packets per display
72 Page Album SRP: $2.00
7ct Packet SRP: $1.00
2017-18 Panini NBA Album Refills
Packaging
: (6) packages per case/(12) Albums per package
72 Page Album SRP: $2.00
2017-18 Panini NBA Sticker Collection Product Highlights :
- A 72-page album with nearly 450 total stickers, including over 100 special foil stickers
- Each NBA team is showcased with a two-page spread
- Look for special page(s) dedicated to NBA events including:
- 2016-17 NBA Award Winners
- 2016 NBA Christmas Day Games
- 2017 NBA All-Star Game in New Orleans
- 2017 NBA Playoffs & 2017 NBA Finals
- 2017 NBA Draft