News pour cette Collection
2015-16 Replay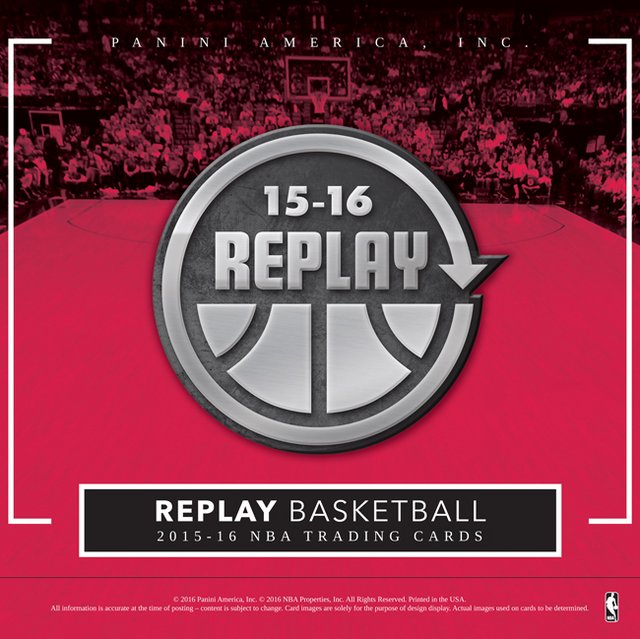 Panini America Delivers Detailed First Look at the Unique 2015-16 Replay :
https://blog.paniniamerica.net/panini-a ... asketball/
Talk about your blasts from the past. In early December, Panini America is delving into its proud NBA history
to deliver a unique trading card product unlike any the company has ever produced.
It's called 2015-16 Replay and, in addition to being the shortest-printed release of the 2015-16 NBA collecting season,
it will afford collectors the rare opportunity to chase some of the greatest NBA cards in Panini America history.
Every three-card box of 2015-16 Replay will deliver two hard-signed autograph cards from the company's past releases
and one Rookie Card numbered to 99 or less.
Every autographed card will be embossed, hand-numbered and safely sealed in a One-Touch.
The RC checklist includes the top 25 players from the 2015-16 NBA Draft and is paralleled by scarce
Just when basketball collectors thought the hobby had moved on to a new season, Panini America drops news of a new release
with a bit of an old feel to it in 2015-16 Panini Replay.
With just three cards per box, this product is cutting right to the chase once it releases on December 7.
There will be two encased autographed buyback cards along with a rookie from last year's class that
included young stars like Karl-Anthony Towns and Kristaps Porzinigis.
Still not giving up on the '15-16 season, 2015-16 Panini Replay is a very late release that diverges from the normal high-end path for Panini.
Every hobby box includes three total cards with the main draw being two autographs from earlier sets.
Look back at the past and torward the future in 2015-16 Panini Replay :
http://www.beckett.com/news/look-back-a ... asketball/
Base Set
While a base set typically contains veteran talent, 2015-16 Panini Replay is taking the freshman route instead.
The checklist is tight, with only 25 players and each card is limited to 99 copies or less.
According to Panini's sales materials, there are four parallel versions and photo variations as well.
As far as the original cards in 2015-16 Panini Replay, collectors can find one Rookie Card in each box from 25 of the biggest first-year names.
In addition to a print run of 99 or less for the base set, four numbered parallels are also joined by variations.
Although that is all there is as far as new cards, 2015-16 Panini Replay taps into its growing history to supply the hits.
Starting with 2009 sets and extending to 2015, the Replay Autographs come from the many Panini brands over the years.
Buybacks
Since the 2009-10 season, Panini has managed to create some memorable cards
and many of them are back for this release with the added bonus of an on-card signature.
There are two buybacks per box of 2015-16 Panini Replay Basketball and each on is encased
and sealed in addition to bearing a new hand-written serial number.
Two signed cards, complete with a Panini-sealed case, drop in every box.
All the cards are hand-numbered and the options consist of both base and insert cards that were later signed
as well as cards that were originally issued as autographs.
Replay Basketball is the shortest printed release of the 2015-16 NBA calendar and a product, unlike any Panini has ever done before.
Replay will give collectors the opportunity to chase some of the hobby's ultimate high-end hits.
http://gogts.net/2015-16-panini-replay- ... all-cards/
Every encapsulated Replay card is embossed and hand numbered providing the perfect blend of affordability, scarcity & collectability.
http://www.cardboardconnection.com/2015 ... ball-cards
Estimated Release Date :
7 Décembre 2016
2015-16 Panini Replay Box Hits :
- 2 Encapsulated Autographed Cards
- 1 Base Rookie Card
Product Configuration :
3 cards per pack,
1 pack per box, 10 boxes per case
2015-16 Panini Replay Basketball Cards Product Highlights :
- 2 Encapsulated Autographed Cards in Every Box! – Sealed in magnetic one-touch holders!
- Every autograph in the program is an ON-CARD Autograph from a plethora of Panini cards ranging from 2009 – 2015, including:
- 2010-11 Rookies & Stars Autographs
- 2013-14 Panini Base Autographs
- 2012-13 Marquee Base Autographs
- 2014-15 Court Kings Artistic Endeavors Prime Autographs
- 2009-10 National Treasures – Rookie Patch Autographs
- Replay provides collectors the chance to potentially pull a "White Whale" in EVERY BOX!
- The checklist is LOADED with 1/1 Autographs and low numbered hits.
- 1 Base Rookie Card in Every Box!
- Catch the last base cards of the outstanding 2015-16 Rookie class.
- Each card is numbered to 99 or less.
All autographs in the product are signed on-card and originate from past Panini America products released between 2009 and 2015.
We'll have plenty more on 2015-16 Replay leading up to the product's December 7 release date.
Tentative Autograph Checklist Total Number of Autographs for Each Player
Anthony Davis - 41
Blake Griffin - 384
Chris Paul - 36
Allen Iverson - 22
Damian Lillard - 12
DeMar DeRozan - 236
Dirk Nowitzki - 58
Dwayne Wade - 21
James Harden - 17
Jimmy Butler - 41
John Wall - 25
Kevin Durant - 138
Kobe Bryant - 143
Kyrie Irving - 76
Ray Allen - 16
Scottie Pippen - 21
Stephen Curry - 57
Tentative Autograph Checklist Total Number of Different Cards for Each Player
Anthony Davis - 21
Blake Griffin - 38
Chris Paul - 10
Allen Iverson - 4
Damian Lillard - 6
DeMar DeRozan - 13
Dirk Nowitzki - 8
Dwayne Wade - 8
James Harden - 10
Jimmy Butler - 6
John Wall - 7
Kevin Durant - 31
Kobe Bryant - 20
Kyrie Irving - 27
Ray Allen - 7
Scottie Pippen - 14
Stephen Curry - 17
Previews Galerie 2015-16 Panini Replay :
https://blowoutbuzz.wordpress.com/2016/ ... usel-35769
https://blog.paniniamerica.net/panini-a ... sel-161363
2015-16 Panini Replay Buyback Autographs (13-14 Panini Intrigue Immortalized Autographs #31) David Robinson /1