News pour cette Collection
2016-17 Court Kings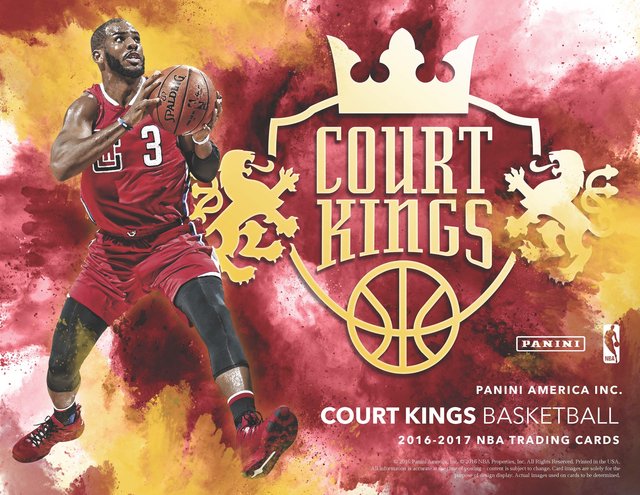 First Buzz - 2016-17 Court Kings :
https://blowoutbuzz.wordpress.com/2016/ ... all-cards/
Showcasing a large color wheel and a focus on artistic designs, 2016-17 Panini Court Kings
maintains its reputation as one of the more distinct NBA releases each year.
Collectors can find one memorabilia card and one autograph card in every hobby box.
Like previous seasons, the base set is joined by multiple tiers of rookie cards, each with a different design.
Starting with Rookies I, there are four total versions to chase for 25 first-year players.
Also offering a rookie focus are the Fresh Paint and Fresh Paint Variation SP inserts with on-card signatures
for key 2016 draftees set against a horizontal layout. Heir Apparent is another hard-signed rookie autograph set.
Representing the memorabilia cards that average one per box, The Performance Art Jerseys features the stats
and images from the game where the jerseys were used.
Taking a similar level of creativity as the base set, regular inserts in 2016-17 Court Kings utilize
several themes and a unique look.
Among the five choices are AKA inserts, centered around player nicknames, as well as Arc-Eologists
for the the best shooters in the league.
More limited inserts include Aurora and Le Cinque Piu Belle.
Another staple of 2016-17 Panini Court Kings Basketball, oversized box toppers fall in each box.
Panoramics goes widescreen with impressive photography while Rookie Royalty looks back
to the debut seasons for top players.
The rarest box topper option is Autographs which boasts on-card signatures for 20 all-time greats.
http://gogts.net/2016-17-panini-court-k ... all-cards/
Estimated Release Date :
30 Novembre 2016
Product Configuration :
10 cards per pack, 1 pack per box, 16 boxes per case
http://www.cardboardconnection.com/2016 ... basketball
2016-17 Court Kings Box Hits :
- 1 Autographed Card
- 1 Memorabilia Card
- 2 Rookies
- 1 Portrait
- 1 Insert
- 1 Box Topper
- 4 Base Cards
2016-17 Court Kings Product Highlights :
- 1 Autographed Card in Every Box!
- Court Kings is loaded to the brim with rookie content, with 25 of the top newcomers featured
in four unique rookie cards.
- Additionally, find ON-CARD Autographs from the newest NBA stars in sets like :
- Fresh Paint,
- Fresh Paint Variations
- Heir Apparent
- 1 Memorabilia Card in Every Box!
Art and sport converge with 2016-17 Court Kings :
http://www.beckett.com/news/art-and-spo ... asketball/
The intersection of art and sports can be a great thing and when it comes together on trading cards,
you end up with 2016-17 Panini Court Kings Basketball.
Each box is jam-packed with hits and cuts right to the chase with an autograph and a memorabilia card
to go along with a pair of rookies, an insert, and an oversized box topper that is suitable for framing.
Base Set
Many of today's top stars will be part of the 2016-17 Panini Court Kings Basketball base set
and there are four of them in each box.
The rookie component of the set is limited to 25 different freshmen, but they will have
four different cards each featuring eye-catching designs.
Inserts and Box Toppers
Last year, the Aurora insert set was tough to find and created some buzz and it
is back again in 2016-17 Panini Court Kings.
It will be joined by four other collections which include the nickname-themed AKA and Arc-Eologists,
which examines the best three-point shooters in the game.
Autographs are drawn from a roster that includes 20 retired greats.
The intriguing Le Cinque Piu Belle inserts return as well.
The box toppers have three distinct themes. Rookie Royalty takes a look back at a player's
debut season while Panoramics have incredible game photography.
Autographs and Memorabilia
Rookie autographs are at the forefront in 2016-17 Court Kings and are hard-signed.
Sets include Heir Apparent and Fresh Print, which the latter having an all-new color variation.
The only memorabilia collection that Panini has announced thus far are The Performance Art Jerseys.
These cards will connect collectors with the game as details and photography
on the card reflects the game the jersey swatch was worn in.
- Court Kings brings you closer to the game with The Performance Art Jerseys insert.
- Each of these cards feature swatches, statistics and photography from the actual game the player wore the jersey!
- 1 Insert Card in Every Box!
- Last year's edition of Court Kings found collectors scouring the marketplace for the hard-to-find Aurora inserts.
- Aurora returns this year with an updated design and player list.
- Be on the hunt for five unique inserts in this year's release!
- 1 Box Topper in Every Box!
- Every box of Court Kings comes with an over-sized Box Topper insert.
Find three different inserts :
- Panoramics – A super-sized display of beautiful wide-angle photography
- Rookie Royalty – A star-studded set that hearkens back to players who excelled in their rookie year
- Autographs – An ON-CARD Autographed insert set that features more than 20 legends of the NBA!
Previews Galerie 2016-17 Court kings :
https://blowoutbuzz.wordpress.com/2016/ ... usel-31729